DixiePac offers various industrial strapping machines, polyester strapping machines, stainless steel strapping equipment, and tools. Arch models include the industry-standard Strapack SQ-800 and are designed for speed and reliability. Polychem's stainless PC-2000 CX is specifically designed for the protein industry. Whatever your needs, whether fully automated polyester plastic strapping or polypropylene plastic strapping, DixiePac will partner with you for the best solution. See below for some of our best-selling models.
Strapack SQ-800 & SQ-800Y Side Seal
---
Introducing StraPack's new line of manual & fully automatic strapping machines, the SQ-800 with brushless DC motor. The SQ-800 provides better efficiency without compromising the reliability of the legendary RQ-8x. The standard industrial strapping machine rate is 55 straps/min, even when tension is applied. The SQ-800Y side seal machine adapts easily to any existing or proposed conveyor system, adapts to any conveyor height, and requires no special equipment.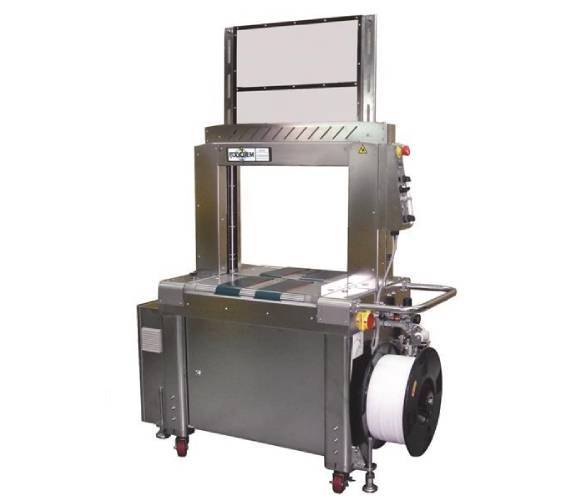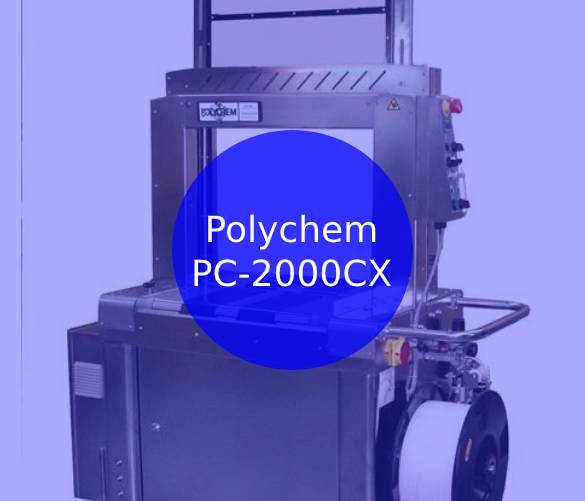 Polychem PC-2000CX
---
The PC2000CX stainless steel which is a fully automatic stainless steel strapping tool is perfect for the protein market. This strapping machine is capable of up to 65 straps per minute; production bottlenecks are virtually eliminated with this high rate of throughput.Cycle Rate: Up to 65 straps per minute depending on arch and package size
Package Weight: Up to 100 lbs.
Strap Tension: Up to 115 lbs.
Polypropylene Strap: 5mm, 6mm, 9mm, 3/8, 12mm, 1/2
Electrical Requirements: 110V 60Hz 1 Phase
Shipping Weight: 450 lbs.
Wulftec PowerMaster
The PowerMaster is specifically tailored to the corrugated and printing industries and can provide up to 9000# of compression. It features an all-electric design that performs faster and more consistently, with fewer maintenance issues than competing products.
The PowerMaster is easily integrated into existing production lines to create a seamless industrial and commercial packaging system, including a wide variety of conveyors, turning devices, centering devices, printers, scanners, scales, etc.
It features the GT-41N strapping head combining rugged reliability, high tension, and efficiency. The strap is sealed through vibration weldingproviding high quality and consistent strap joints. The complete head is mounted on a hinge for easy access, cleaning and troubleshooting.
Strapack IQ-400
Introducing the iQ-400, StraPack's new semi-automatic industrial strapping machine with dual tension mode. This allows for a wide variety of applications with just a flick of a switch. The iQ-400 is a durable and heavy-duty strapping machine designed to withstand various harsh environments. It is amazingly quiet to operate and well suited for office use also.